KGS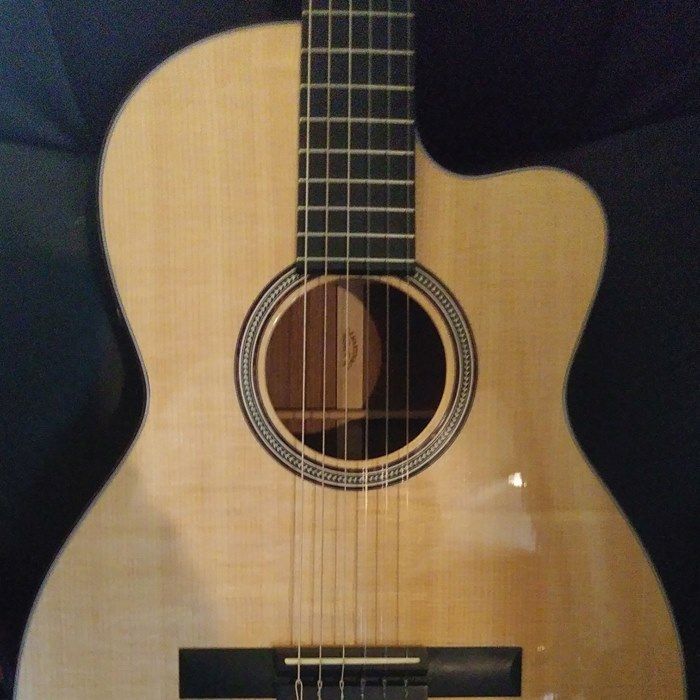 Keller Guitar Studio
Tom Keller, Guitarist
Born in 1973 in Greenwich, NY, Tom's musical interests began to bloom at an early age. National Public Radio ever present throughout his house, his parents were from almost opposite ends of the cultural spectrum (his father Harold from Brooklyn NY and mother June from Ozark, AR). An eclectic mixture of family friends  also fueled his upbringing and inspiration.
At the age of 6, his friend Jeff Davis introduced him to a guitar that had been shoved in a closet, a Fender sunburst acoustic, strung left-handed. The next few years involved heavy doses of the Beatles, Bob Dylan, Rolling Stones and the aforementioned NPR programming of early music, Bach, Shostakovich and Mahler. Family car rides always included Beethoven piano trios or Shostakovich quartets, to which Tom lamented 'Why don't you play some of MY music?".. the response being "This IS your music...you just don't know it yet."
Tom's formal guitar training started when he was 9, with Jean Collins in Cambridge NY. She immediately switched him to right-handed playing, his first classical a Giannini student model. Jean formed groups with Tom and the other students, namely the Cambridge Valley Classical Guitar Society, which performed at Hubbard Hall and other venues throughout the area in the 1980s. During that same period he also studied the flute and piano. After spending the summer of 1987 in Edinburgh, Scotland where he took part in the Edinburgh International Festival and the Edinburgh Festival Fringe, he continued his guitar studies with Joel Brown at Skidmore College, Tony Sano of College of Saint Rose, and jazz guitarist Jim Wilson. While in high school, he formed his first rock band, Icarus, and was the guitarist and assistant director of the Greenwich High Jazz Ensemble.
Tom pressed on and earned his Bachelor of Fine Arts in Music from Purchase College SUNY, studying with William Anderson, David Starobin, Ray DesRoches, Jim McElwaine and Alvin Brehm, and engulfing himself in the early 90s NYC music scene. The amount of experiences during that time was dense. In addition to playing many noted venues throughout the city, memorable times included an impromtu flute lesson with Thomas Chapin at the old Knitting Factory, a short but close friendship with Eva Cassidy, and personally witnessing Jeff Buckley's early musings of "Hallelujah". Tom's work during this time also included a heavy concentration on new music. He recorded for composers PGSix and Peter Scartabello, constantly  performed new and contemporary classical works, taught guitar, arranged for Cherry Lane Music, and built his own catalog of original acoustic rock. In 1996 he moved back north to the Albany area, where a whole new circle of musical relationships would flourish.
As a resident of Lark St, his work would include solo singer/songwriter performances. He collaborated with friends Bob Gori as the acoustic rock duo Without Reason, Tom Morello in classic rock group The Brainstormers as well as playing in various projects with Buck Malen, Mark Jones and others. He began to learn guitar repair,  worked as a stagehand for the City of Albany events and hosted the Open Mic at Borders Books & Music. His 6-string handiwork has taken him throughout the United States and abroad on several occasions. Tom also held the position as Stage Manager for Mona Golub's Second Wind Productions for 4 seasons, working the Music Haven and Washington Park Concert Series.
In 2009 Tom came full circle, moving back to the farm in Greenwich -  writing, performing, teaching privately and holding the position of Music Director for the Greenwich Youth Center until 2015.
Tom is passionate about youth musical education, accepting guitars for donation to kids who may not have the means for a decent instrument on which to learn. Putting the power of music into the hands of the youth is a key driving force behind Keller Guitar Studio.
Currently located just a few mile north of Greenwich, in the hamlet of South Argyle, Tom operates Keller Guitar Studio from home. He teaches privately, performs basic repairs, and is always taking on various recording and performing projects. Tom was nominated for Songwriter of the Year 2019 for the North Country Music Awards, and is a member of country gospel group, Bridge Street Revival, NCMA winner of Best Gospel Act 2019. BSR recently released first EP, avaiable direct and on all digital platforms. Tom is also in the process of assembling tracks for a long-overdue forthcoming solo EP of his original work. In addition, Tom has recently formed the Argyle Community Musical Arts Forum, a monthly meeting of local minds to discuss everything music and to give the opportunity for others to share their own music in a small, constructive atmosphere at the Studio.